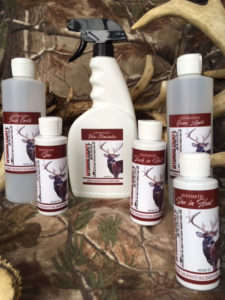 At Wyoming County Whitetail we are now offering quality, field tested Synthetic Deer Scent Products (synthetic doe in heat, doe, and buck in rutt lures) as alternatives for our customers to use in states which have banned the use of natural deer urine.
Wyoming County Whitetail's synthetic deer scent products replicate the natural smells of whitetail deer.  Whether you are looking for a calming effect with the use of synthetic doe scent, are trying to fool a buck into thinking that a hot doe is bedded nearby with Wyoming County Whitetail synthetic doe in heat urine, or aim to bring a buck into your stand by making him believe that another buck is encroaching on his territory with buck in rutt lure, you can count on our synthetic products to do the job. We are a family business and offer attention to detail which you can't find in a large company.
Wyoming County Whitetail is also offering two new cover scents, fresh earth and green apple scents. Fresh earth cover scent has a non-threatening smell which is familiar to whitetail does and bucks, allowing you to blend into your surroundings.  Green apple cover scent has a dual purpose, both to mask human odor and as an effective attractant food scent. Either of these cover scents make an effective addition to our natural or synthetic doe in heat, buck, and doe scents.
Our new Wyoming County Whitetail earth scent odor eliminator is an enzyme formula which destroys human odor as well as smoke, gasoline, and other foreign smells and comes in a convenient spray bottle. This product allows you to blend into your surroundings using a versatile earth scent and is safe to use on clothing, skin, and hunting gear.
Unfortunately, some states have banned the use of any deer urine products, even though science does not support these decisions. It is for this reason we have decided to start selling synthetic scents as well as natural deer urine products. At Wyoming County Whitetail Deer Farm we have been producing quality natural deer urine products since 1996.  Our whitetail deer herd is certified chronic wasting disease free through NYS Ag and Markets.  We are also a member of the Responsible Hunting Scent Association Deer Protection Program and we are even having our natural urine products tested to prove there is no CWD in them. The banning of natural deer urine use in some states is nothing more than a panic response and these laws are not based on scientific evidence. The scientific evidence actually shows that it is basically impossible for a deer in a natural setting to get CWD from any deer urine product.
Click here for more further information on CWD, CWD certification, or the RT-QuIC test for urine products.
YOUR CAN ALSO STOP BY OUR FARM TO PICK UP OUR DEER SCENTS AND SAVE EVEN MORE. WE OFFER DISCOUNTS OF 25-40% ON ORDERS WHICH YOU PICK UP.
7% discount when you order 2 or more bottles.
Free shipping on all orders of $20.00 or more.