Call us 9 a.m – 9 p.m eastern time and Sundays 11 a.m. – 9 pm.  Thank you!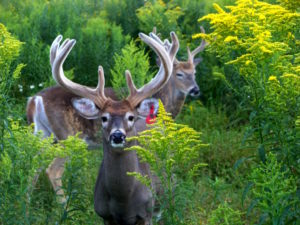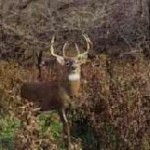 We collect deer urine from whitetail doe, buck, buck in rut, and doe in heat for use as scents and lures for hunting. Our buck urine and doe urine is collected daily and we collect doe in heat and buck in rut urine in season from our own whitetail deer. With our deer scents we concentrate on what matters – the product, not fancy labels and bottles or gimmicks. We feel the important thing is to give our customers 100% pure buck urine and doe urine exactly as it is found in the wild.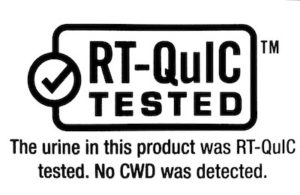 The Wyoming County Whitetail farm is located in Western New York State about 45 minutes Southeast of Buffalo in the town of Java in Wyoming County which is in the heart of dairy country.
We started our deer farm in 1996 with the purchase of bred does from various local deer farms.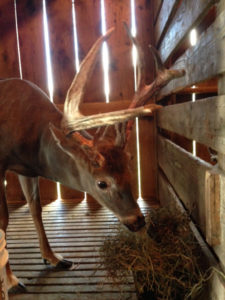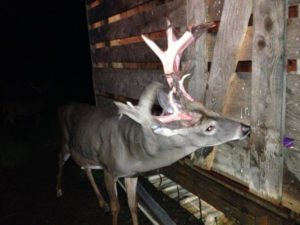 Our herd has grown over the years and now includes bucks and does of various ages.
We have an established urine wholesale business with a number of local and national dealers and have recently been expanding our business.
The urine we sell is 100% pure with no additives or preservatives and is not watered down. We have also been testing our deer for over ten years now for Chronic Wasting Disease and all of the deer we have had tested have been been found to be CWD free.
Our pens are cleaned daily and the urine is collected from only adult does and bucks and is of the highest quality.
Wyoming County Whitetail Deer Scent Products…
All of the urine we sell is refrigerated immediately and is extremely fresh.
Our deer are fed a varied diet of corn, fresh leaves, apples, and acorns with our aim being to imitate as closely as possible the diet of deer in the wild.
The urine from each deer is collected and bottled separately. When bottling the urine it is carefully strained to remove any sediment.
We know you will be happy with our products and we offer a money back guarantee on all of our deer urine.
If you are not completely satisfied please ship the unused portion back to us for a full refund.
Synthetic Deer Scent Products…
We are now offering quality, field tested synthetic as an alternative for our customers to use in states which have banned the use of natural deer urine.
  ~  Click to learn more about our synthetic deer scent products  ~
Wyoming County Whitetail Deer Farm Family…
Meet three generations of Ebert's, the owners and operators of Wyoming County Whitetail Deer Farm. Hunting is more than a sport to us…it is in our blood, a passion for the outdoors that has been passed down for generations.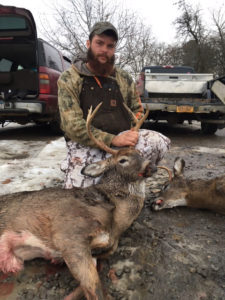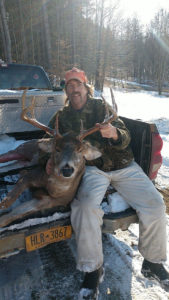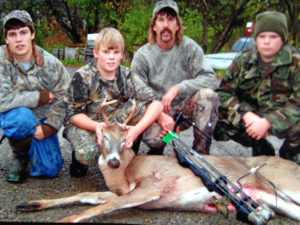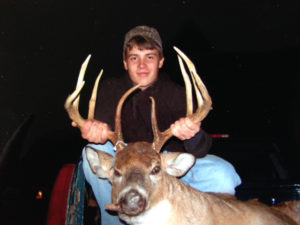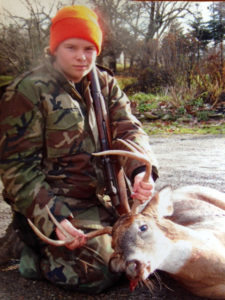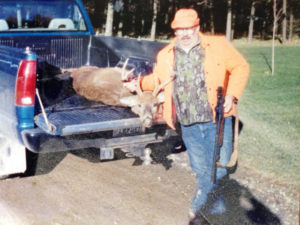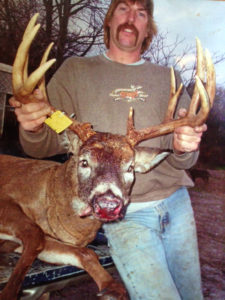 We take pride in offering you the best deer scents possible to help you make the most of your hunting season. We understand how important having a fresh, quality deer urine is to you and our deer scents are not mass produced. Instead, our doe, buck, buck in rutt, and doe in heat urines are collected and bottled daily with attention to detail you will not get from a large manufacturer. Each and every one of our customers is important to us and we will do our best to make sure to offer you customer service which we can be proud of.
~  Ken, Susan, Hayden, Austin, and Caleb Ebert